We've spent almost seven years designing the ROUNDMAP™ Whole System Model of Business in an attempt to overcome widespread employee disengagement and alienation. Unfortunately, due to functional and mental silos, internal politics and turf wars, our holistic approach wasn't received with open arms.
In 2022, we introduced Positive Inquiry™ to two Fortune 250 companies. Positive Inquiry™ offers three stages: Change Inward, Change Upward, and Change Onward. While the inward-stage deals with a whole system discovery of individual and organizational strengths, the upward-stage focuses on designing the future (what to start and stop), leading to an action plan for the onward-stage. 
By combining ROUNDMAP™ with other methods and techniques such as Design Thinking, Open Space Technology, and Systems Thinking, we help the organization transform toward a responsive company. Thereby preparing the firm to deal effectively with a constantly shifting environment through extremely transparent information sharing (shared consciousness) and decentralized decision-making authority (empowered execution). (Source: Team of Teams by Gen. McCrystal).
Similar to ROUNDMAP™ (combining roundtrip and roadmap), Positive Inquiry (PI) is a portmanteau of positive change and appreciative inquiry (AI).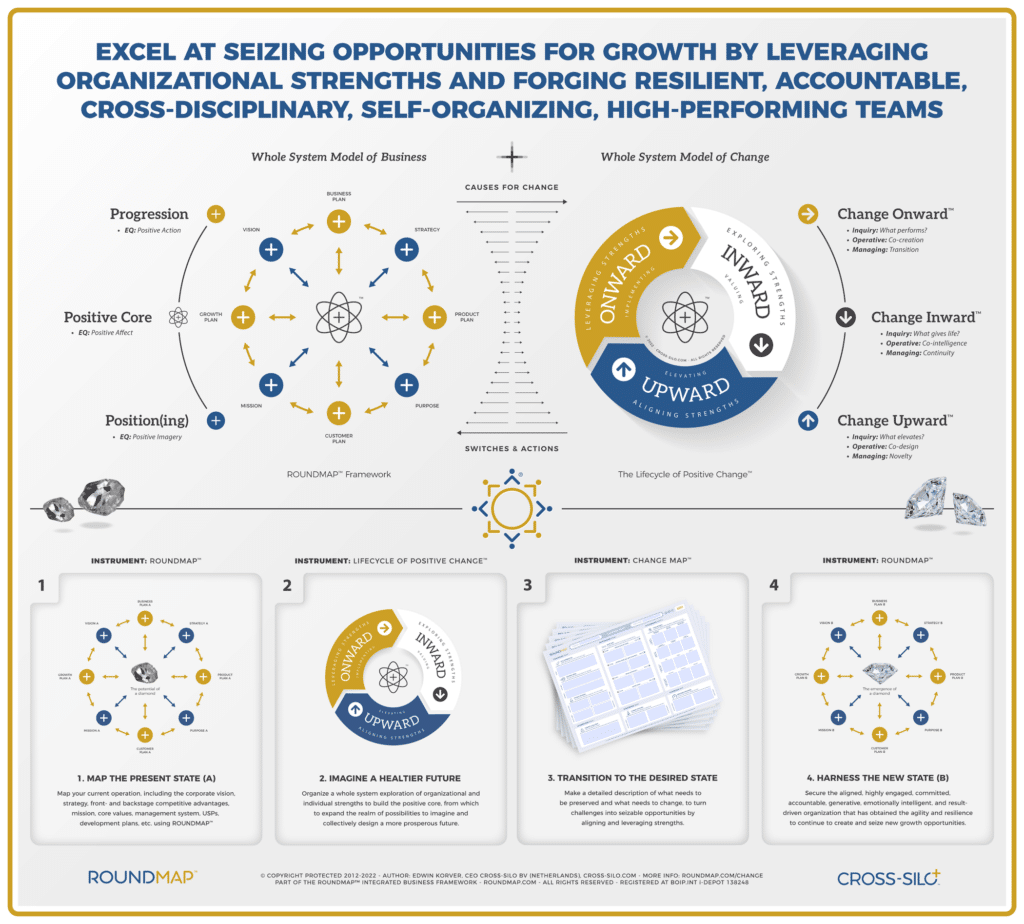 On the left-hand side of the diagram, you'll see a top-level schematic of the ROUNDMAP Whole System Model. This part of ROUNDMAP consists of 3 structural pillars:
Progression – How are we developing?
Positioning – Where do we play and how do we plan to win?
Positive Core – What do we value most about ourselves?
On the right-hand side of the diagram, you'll find a schematic of the ROUNDMAP Lifecycle of Positive Change™. This section of ROUNDMAP consists of three stages:
Change Onward™ – What performs?
Change Inward™ – What gives life to the organization?
Change Upward™ – What elevates?
Positive Inquiry™ (Pi) is based on the practice of Appreciative Inquiry (AI), first introduced in 1987 by David Cooperrider Ph.D and Ronald Fry Ph.D, among others. The abbreviation of Positive Inquiry, Pi, also refers to a mathematical constant that is the ratio of a circle's circumference (impact) to its diameter (reach). We believe change isn't linear, rather a cyclical process of continuous adaptation.
Contrary to traditional deficit-based change programs that focus on what went wrong (deficiencies, failures, gaps, constraints, and problems), AI is a strength-based approach, focusing on what gives life to the organization by exploring what went right. This approach to organizational change is very much aligned with Peter Drucker's most insightful words:
You may have noticed the words Causes for Change in between the frameworks in the diagram. It indicates that if the organization isn't a fit for the present or predicted circumstances, it needs to adapt. The cause for change can be externally enforced, for instance, due to a sudden decline in revenue, or follows a self-emposed challenge, such as 'growing market share by 5% in the next six months.'
But where do we start? And what relevant interdependencies and interrelationships should we consider before trying to deciding on the best fit, given the circumstances?
The Lifecycle of Positive Change follows three steps, starting from an exploration of what worked best in the past, to build a positive core ─ a mapping of individual and organization strengths:
Exploring strengths (co-intelligence > generating),
Aligning strengths (co-design > formulating),
Leveraging strengths (co-creation > implementing).
After involving the whole organization in a strengths exploration, people need to plan the implementation: What do we want to keep (consistency), what do we need to stop doing (discontinuation), and what do we to start doing (novelty)? 
The beauty of the ROUNDMAP framework, the organizational development and the change part together, is that discoveries in one model can be translated to the other, using the Positive Core as the denominator.
For instance,
By asking "What is changing?" and "What's the best future you can imagine?," we're collectively creating a Shared Vision;
By asking "What do I value most?," we're building a common sense of Purpose;
By asking "What will it take to get us there?," we are collectively strategizing our way to the future;
And by appreciating our current Mission by asking "What led us here?" and "What is my high point?," we agree on what we value most and care most about.
Feel free to contact us for more information. Or, have a look at positiveinquiry.com