We've spent almost six years building the Integrated Business Framework; more recently, we focused on building a framework for organizational development (OD) & change (OCM). This led to the creation of the Lifecycle of Positive Change. The next big challenge was to connect the two frameworks.
We're thrilled to share the result with you!
On the left-hand side of the diagram, you'll see a top-level schematic of the ROUNDMAP Integrated Business Framework. This part of ROUNDMAP consists of 3 structural pillars:
Progression – How are we doing?
Positioning – Where do we play?
Positive Core – What do we have to play with?
On the right-hand side of the diagram, you'll find a schematic of the ROUNDMAP Lifecycle of Positive Change™. This section of ROUNDMAP consists of three stages:
Change Onward™ – What performs?
Change Inward™ – What gives life to the organization?
Change Upward™ – What elevates?
The Lifecycle of Positive Change™ is based on the practice of Appreciative Inquiry (AI), first introduced in 1987 by David Cooperrider c.s.
What is AI?
Contrary to traditional deficit-based change programs that focus on what went wrong (deficiencies, failures, gaps, constraints, and problems), AI is a strength-based approach, focusing on what gives life to the organization by exploring what went right.
This approach to organizational change is wholly aligned with Peter Drucker's most insightful words on organizational development (OD and change: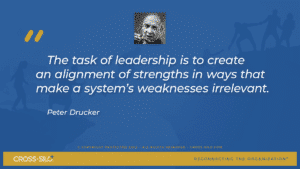 Cause for Change
You may have noticed the words Cause for Change in between the frameworks in the diagram. It indicates that we may need to respond quickly when conditions, expectations, or aspirations shift. For instance, if we want to attract cohorts of conscious customers and investors, we may need to work harder on our interpretation of environmental, social, or governance (ESG) issues, particularly given the recent ESG investing trends.
But where to start, and what relevant interdependencies should we consider before trying to implement a solution?
The Lifecycle of Positive Change follows three straightforward steps, emphasizing what worked in the past and how to align our strengths in a way to meet the challenge:
Exploring strengths (co-intelligence),
Aligning strengths (co-design/co-creation),
Leveraging strengths (coherence).
After involving the whole organization in exploring the organization's strengths, we coach a cross-section of the organization to make sense of the exploration. Next, we collectively design an alignment of the newfound strengths to elevate the organization. And finally, we coach the Advisory Team and Leadership Team to integrate the alignment of strengths into the existing operation.
Recursive
The great thing about ROUNDMAP is that discoveries in one framework build the other.
For instance,
By asking, "What is changing?" and "What's the best future you can imagine?" we're collectively creating a shared Vision;
By asking, "What do I value most?" we're building a shared sense of Purpose;
By asking, "What will it take to get us there?" we are strategizing our way toward the desired future;
We appreciate the current Mission by asking, "What led us here?" and "What is my high point?".
Feel free to contact us for more information. We're here to help.